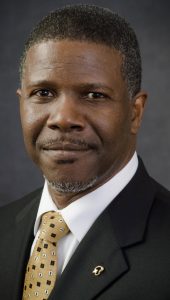 Reverend Jeffery L. Gray was born in Mendenhall, Mississippi. He grew up in a faith-oriented family where his praying parents guided him to seek a life of righteousness, integrity and self- discipline. Jeffery accepted Jesus Christ as his Lord and Savior at the tender age of six (6) and was baptized at Pine Grove Missionary Baptist Church, Braxton, Mississippi. He was very active in his home church as a youth and young adult.
Jeffery was educated in the public schools of Simpson County, Mississippi and is a 1977 graduate of Mendenhall Attendance Center. He attended Jackson State University, Jackson, Mississippi, majoring in Computer Science and Criminal Justice, before joining the United States Marine Corps in January 1981. Jeffery holds an Associate of Science (AS) Degree in Liberal Arts and a Bachelor of Science (BS) Degree in Sociology from the University of New York, Regents, now, Excelsior University. He also holds a Master of Science (MS) Degree from Capitol College, Laurel, Maryland, in Information and Telecommunications Systems Management. Jeffery is a 2007 graduate of the Howard University School of Divinity, where he earned a Master of Divinity Degree (MDiv) and he attained a Graduate Certificate of Systems Engineering from George Washington University, both of Washington, DC. In May of 2015 Jeffery was awarded a Doctor of Ministry (DMin) Degree for Urban Ministry at Wesley Theological Seminary, Washington, DC. He is employed as a Systems Engineer with The Van Dyke Technology Group (VDTG).
After 20 years of military service as a Cryptologic Technician, Jeffery retired from the United States Marine Corps, as a Master Sergeant, in January of 2001. At which time he made Argonne Hills Gospel Service of Fort Meade, MD his chosen place of worship. He served the Lord at Argonne Hills as Children's Church Instructor; President and Vice-president of the Male Chorus; Chaplain of the Male Chorus; Bible Study Instructor; Adult Sunday school Instructor; Armor Bearer for the Pastor; President and Vice-president of the Prayer Team; and Minister of Worship.
Jeffery answered the call to the ministry in January 2002. He was licensed and ordained by Reverend Dr. A. C. D. Vaughn, Senior Pastor, Sharon Baptist Church, Baltimore, MD. From December 2004 until May 2006, Jeffery served as Minister of Outreach at New Life Fellowship Baptist Church, Hanover, MD. After which time, Jeffery returned to Argonne Hills as Minister of Worship to carry on the great work that was begun there. Moved by God to launch a new ministry in Anne Arundel County, MD, Jeffery is now Senior Pastor and Founder of Agape Deliverance Ministries, Inc.
Jeffery also provides chaplaincy services to the following organizations:
Volunteer Chaplain for Clifton T. Perkins Hospital Center, Jessup, MD
Assistant National Chaplain of Alpha Phi Alpha Fraternity, Inc.
Chaplain, Eta Eta Lambda Chapter of Alpha Phi Alpha Fraternity, Inc. Annapolis, MD
Reverend Gray and his wife Yvette reside in Millersville, MD. They have two sons, Keoni Gray and Markus Allen; granddaughter, Jordyn Simone Carter; and grandson, Myles Jeffery-O'Shea Gray.